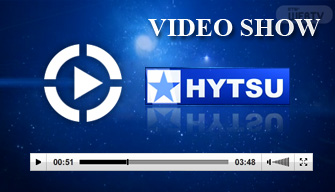 Electric Pallet Stacker Our electric pallet stacker is utilized in small warehouses and good yards to transport and move pallets and other heavy items over short distances.
One type is designed with narrow straddle and the other is designed with wide straddle ...

Self-Elevator Stacker Designed with multifunction, one HYTSU self-elevator stacker is an ideal replacement of your conventional tail lift, pallet truck, pallet stacker, ramp and swing lift. Being capable of easily moving, it can load and unload palletized goods of up to 600kg. This stacker is easy and quick to transport ...

Manual Pallet Stacker The product we introduce in this page is our manual pallet stacker. As the name suggests, this type of pallet stackers is powered by manual force. These manual stackers are widely used in textile industry, paper making, printing, transportation and storage industries, etc ...
Pallet Stacker
Our heavy duty pallet stacker comes in three subcategories, that is, electric pallet stacker, self-elevator stacker and manual pallet stacker.
Designed with a firm structure and constructed by high strength superior steel, HYTSU pallet stacker is fully capable of lifting heavy items. To ensure high working efficiency, we equip our stacker with superior hydraulic pump, pump cylinder with Germany seal kit, and high tensile heavy pallet fork as well. To guarantee the safety of operators, we also install advanced hand brake system and steering wheel with safety guard on our stackers. Hence, our pallet stacker is an ideal material handling equipment designed based on mechanical, electrical and hydraulic technologies.
Our pallet stackers offer a variety of options for short distance material transferring in warehouses, goods yards, and so on.
As a manufacturer and supplier of pallet stacker in China, HYTSU Group is also specialized in producing other material handling equipment with different specifications, such as forklift truck, pallet truck and fork truck accessories, etc. All material transport equipment is certified by CCC, CE and UL, so customers can feel at ease in purchasing.
If you're interested in our warehouse equipment, please feel free to contact us at anytime! We at HYTSU look forward to working with you!
Material Handling Equipment