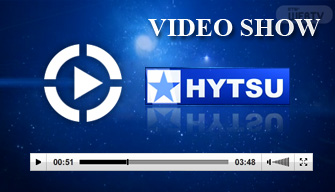 Electric Pallet Truck The product shown in the picture is HYTSU electric pallet truck. Our electricity powered pallet jack is manufactured under strict quality management system, which guarantees the good performance and thus contributes to the popularity of our products among worldwide customers ...

Hand Pallet Truck Our hand pallet truck is an indispensable tool for loading and unloading goods in warehouse, docks and factories.
Designed with 520mm or 685mm wide fork, this hand pallet truck is convenient for handling goods ...
Pallet Truck
Pallet truck, also known as pallet jack or pump truck, is commonly used to lift and move pallets. Our pump trucks mainly fall into two categories, that is, electric pallet trucks and hand pallet trucks.
HYTSU electric pallet truck consists of American CURTIS electric controller, European drive unit, DC motor and control handle as well as imported hydraulic pump, so it performs stably and can serve for a long life. A platform is installed on this pump truck for the operator to stand on when he is hauling pallets around a warehouse or when he is loading or unloading materials.
The hand pallet truck is also an indispensable auxiliary tool for material transferring. Featuring convenient and easy operation, our handle pallet jack can be handled by anyone. The cone pallet fork is designed in an integrative structure so as to enhance its loading capability. Before shipment, we conduct quality examination for each product to ensure there won't be any inferior products. Through our continuous effort, our pallet trucks have obtained certifications of CCC, CE and UL. Upon request, we can also manufacture customized pump trucks in line with customers' demands on sizes and specifications.
HYTSU Group is a professional pallet truck manufacturer in China. Since its establishment, we have aimed at providing our customers with high quality products and comprehensive services. To achieve this, we constantly update our production technologies and facilities, improve the quality control procedures, and complete presale, in-sale and after sale services. Produced in conformance with the standard of ISO9001:2000, our electric forklift trucks, heavy duty forklifts, electric pallet stackers, self-elevator stackers and other material handling equipment all come with high quality.
Therefore, our products are highly sought after by customers from more than 70 countries and regions, including the United States, Australia, and Europe, etc.
If you are interested in this kind of products, please don't hesitate to contact us!
Material Handling Equipment